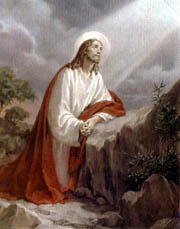 When the disciples asked Jesus how to pray, He taught them the Our Father. Simple. Not an emotional, energy-packed experience. Not a "gift" which some people receive, while others do not (i.e. praying in "tongues"), but rather a simple prayer which any man, woman or child can say.
The lives of the Saints clearly reinforce this truth. Their methods of prayer did not resemble sporadic outbreaks in unknown, indecipherable tongues. They became Saints on the traditional prayers of the Church: the Creed, the Our Father, the Hail Mary, the Glory Be, etc., and of course the constant raising of their hearts in gratitude to God. How many countless Saints have exalted the Rosary?
The Charismatic movement says that speaking in tongues is a sign that you have been baptized with the Holy Spirit. The Bible says that it was a sign to unbelieving Jews. I Cor. 14:22: "Wherefore tongues are for a sign, not to believers, but to unbelievers, but prophecies not to unbelievers, but to believers."
The Charismatic movement places great emphasis on "bodily healing" and tells people that "God is not wanting anybody to be sick", but they have not Scripture to show us where God ever said that. Many of them scoff and sneer at such passages. II Cor. 12:7-9: "And lest the greatness of the revelations should exalt me, there was given me a sting of my flesh, an angel of Satan, to buffet me. For which thrice I besought the Lord, that it might depart from me. And He said to me: 'My grace is sufficient for thee; for power is made perfect in infirmities, that the power of Christ might dwell in me.'
Kehidupan Santo-Santa memperkukuhkan 'kebenaran'
Apabila pengikut-pengikut Yesus bertanya kepada-Nya bagaimana untuk berdoa, Dia mengajar mereka doa "Bapa Kami". Doa yang mudah, bukannya berdasarkan pengalaman menggunakan emosi dan gaya yang keterlaluan. Bukannya 'kurniaan' yang sesetengah orang terima, manakala yang lain tidak terima (contohnya berdoa dalam 'bahasa roh'), tetapi doa yang mudah dan dapat difahami oleh lelaki, perempuan dan kanak-kanak.
Kehidupan santo-santa jelas memperkukuhkan lagi kebenaran ini. Cara mereka berdoa tidak menggunakan 'bahasa-bahasa roh' yang tidak difahami. Fenomena tersebut memang sangat asing dan jarang berlaku bagi para santo-santa tersebut. Mereka menjadi santo-santa melalui doa-doa tradisi Gereja Katolik, 'Aku Percaya', 'Bapa Kami', 'Salam Maria', 'Kemuliaan', dan sebagainya. Begitu juga dengan doa kesyukuran mereka kepada Bapa di Syurga yang tiada hentinya. Berapakah jumlah para santo-santa yang telah memartabatkan doa Rosari?

Gerakan Karismatik menyatakan jika seseorang itu berbahasa roh merupakan tanda bahawa seseorang telah dibaptiskan dalam Roh Kudus. Alkitab menyatakan berbahasa roh adalah tanda kepada orang-orang Yahudi yang tidak percaya akan tujuan kedatangan Kristus. 1 Kor 14:22 : "Berbahasa roh adalah satu manifestasi untuk orang-orang yang tidak percaya, dan bukanlah untuk orang-orang yang beriman; manakala "nubuat" adalah untuk orang-orang yang beriman, dan bukannya untuk orang-orang yang tidak beriman."
Gerakan Karismatik menekankan 'penyembuhan fizikal' dan memberitahu orang ramai bahawa 'Tuhan tidak mahu sesiapa pun sakit'. Tetapi dalam Alkitab, tidak ada Sabda Tuhan yang menyatakan perkara sedemikian. Kebanyakan mereka mengendahkan petikan-petikan berikut; 2 Kor 12:7-9 : "Supaya jangan aku menjadi sombong akibat penglihatan-penglihatan yang ajaib itu, aku diberikan satu macam penyakit di dalam tubuhku sebagai alat Iblis untuk memukul aku serta mencegah aku menjadi sombong. Tiga kali aku berdoa kepada Rabbi (Yesus) memohon supaya dia menjauhkan ini, tetapi jawabnya, "Rahmat-Ku itu cukup bagimu, kerana kuasa-Ku ternyata sekali justeru manakala engkau lemah."