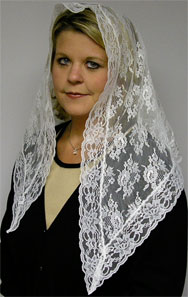 1. Rekabentuk gereja Katolik adalah

'victorian'

. Melalui rekabentuk gereja saja, umat dapat membezakan antara gereja Katolik dengan gereja Protestan.
2. Misa Tradisional Latin dirayakan di gereja RC sejak zaman 12 rasul Yesus yang pertama. Kebanyakan paderi fasih dalam bahasa Latin iaitu bahasa rasmi Gereja RC.
3. Lagu-lagu gregorian (lagu gereja rasmi) sahaja yang dinyanyikan dalam gereja. Selalunya diikuti dengan instrumen organ.
4. Paderi menggenakan pakaian kasok setiap hari. Cara ini mudah untuk mengenali paderi.

5. Para religius iaitu

brother

dan

sister

juga memakai jubah religius mereka. Skirt

sister-sister

pada masa itu melebihi paras lutut dan memakai veil yang tidak menampakkan rambut langsung.

6. Wanita menghadirkan diri dalam gereja dengan menggunakan 'veil' dan pemakaian yang sopan. Blaus mesti mempunyai lengan dan kolar yang tidak mendedah dan menggenakan skirt labuh dan panjang. Wanita tidak dibenarkan memakai seluar panjang.

7. Sakramen Komuni hanya boleh diambil apabila umat berpuasa tidak kurang dari 3 jam sebelum menerima Komuni.

8. Umat menerima Sakramen Komuni dilidah dan menerimaNya secara melutut.

9. Umat faham tentang keperluan membuat Sakramen Pengakuan sebelum menerima Sakramen Komuni.

10. Umat berpuasa dari memakan daging pada setiap hari Jumaat iaitu bermula dari 12am (selepas Khamis) hingga 12am (Sebelum sabtu).
11. Banyak keluarga Katolik berdoa Rosari setiap hari.
12. Umat kerap membuat novena kepada santo santa.


The building architectural of Catholic churches was Victorian. It was a time when we could easily tell between a Catholic or a Protestant church.
The Traditional Latin Mass was celebrated in RC church since the time of the first 12 apostles. Many priests used to be very well-versed in Latin which is the official language of the RC church.
Only Gregorian chants were sung inside the church. Organ used to be the main musical instrument.
Priests wore cassock every day. The faithful can easily identify a priest wherever he goes.
The nuns and brothers also wore their habit. The nuns' skirts were always below the knee and their veil completely covered their hair.
Women and girls attending mass wore very modest clothing. They covered their heads with veil. They wore blouses with sleeves and long skirts. Women were not allowed to wear pants.
The faithful fasted 3 hours before receiving Holy Communion.
The faithful received Holy Communion on the tongue and by kneeling down.
The faithful understood that they were obliged to go to confession (for mortal sins) before receiving Holy Communion.
The faithful abstained from meat every Fridays starting from 12am (after Thursday night) until 12am (before Saturday)
Catholic families prayed the Rosary daily. They had great devotion to Mother Mary.
The faithful had great devotion to the saints and frequently made novenas to them.