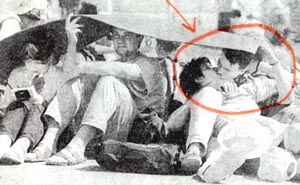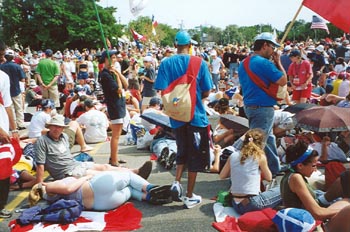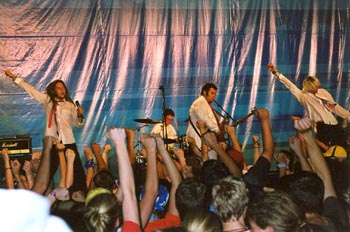 It sounds so good and wholesome – youth coming together to greet the Pope, celebrate their Catholic Faith and learn more about it to evangelize others. What could possibly be wrong with the World Youth Day launched by John Paul II in 1985 in
Rome
, and repeated many more times in cities around the world? In 1993, the
US
hosted a WYD in
Denver
. In July 2002,
Canada
took its turn in
Toronto
. The latest was WYD held in
Sydney, Australia
in Aug 2008.
Parents who have "misgivings" about WYD, rationalize, that it must be all right because the Pope will be there, the Bishops support it, and the parish priest or CCD director is driving the van of young men and women to the event. The alarm should be going off with that last phrase: It was always against Catholic morals for youth of mixed sexes to travel together like one big family for camping trips or overnight retreats. These strange new practices disregard the reality of original sin; they follow a loose new morality of a post-Vatican II Church.
WYD propaganda also constantly speaks of pilgrimage: Youth as pilgrims, youth on pilgrimage. But again, the word has changed. Pilgrimage no longer means a journey to a sacred place. It has become an evolutionary journey of "self discovery," of finding one's own spirituality. The WYD sessions encourage youth to challenge authority and "the old ways" and work together to create new solutions to religious questions in tune with the times. Join together to find the values that define your spirit, the youth are told, and then act them out.
What is the spirit of WYD? The event is not a "Day," but extends to a week of scheduled "experiences" that revolve around pop and rock concerts, a grand party. The celebration is hocus. The youth celebrate themselves: "We are the Youth, the future of the world!" "We are the light of the world and salt of the earth." The aim of evangelization is a charade: instead of bringing others to the truth of the Catholic faith, the youth hug and "exchange experiences" with persons of all religions and creed. Facilitators of the event are not even required to be Catholic.
Ianya suatu berita yang sungguh menggembirakan apabila mendengar kaum belia berkumpul dan menyambut Paus, merayakan iman Katolik mereka dan belajar bagaimana menginjilkannya kepada orang lain. Ada apakah masalah WYD yang dilancarkan oleh Paus Yohannes Paul II pada tahun 1985 di Rom, dan diulangi lagi di beberapa tempat di seluruh dunia? Pada tahun 1993, WYD diadakan di Denver, Amerika Syarikat. Pada Julai 2002, Canada menjadi tuan rumah di bandar Toronto dan yang terbaru sekali baru saja diadakan di Sydney, Australia pada Ogos 2008.
Para ibubapa yang mempunyai suatu perasaan kebimbangan tentang WYD, akhirnya membuat kesimpulan bahawa WYD adalah selamat untuk anak mereka, kerana ada Paus hadir, uskup-uskup menyokongnya, paderi paroki atau direktor CCD lah yang memandu van yang membawa belia lelaki dan wanita ke perayaan itu. Percampuran antara belia lelaki dan wanita sepatutnya membuat ibubapa was-was. Moral Katolik selalu menekankan belia lelaki dan wanita sepatutnya tidak senang bercampur dan tidur sekhemah. Amalan sedemikian mengenepikan dosa asal (original sin); ianya menuju kepada moral yang tidak terkawal yang di perkenalkan dalam era vatikan ke-II.
WYD selalu dipropagandakan sebagai belia membuat pilgrim. Belia sebagai pilgrim, belia dalam pilgrimage. Tapi maksud pilgrimage disini sudah diubah oleh WYD. Pilgrimage disini tidak lagi bermaksud menziarahi tempat yang suci (yang sepatutnya begitu). Maksud pilgrimage disini ialah satu perjalanan 'evolusi' dalam diri belia sendiri. WYD menggalakkan belia untuk mencabar autoriti dan 'cara lama' dan bekerjasama dalam mengatasi masalah perbezaan agama agar ianya mengikut arus peredaran zaman. Belia diberitahu, 'sertailah bersama-sama mencari nilai kerohanian masing-masing dan praktikkan nilai itu'.
Apakah WYD? Ianya bukan perayaan sehari tetapi memakan masa seminggu dengan bermacam-macam acara pop, rock dan parti sakan. Ianya perayaan yang bising kacau-bilau. Belia merayakan diri mereka, mengatakan: 'Kami belia, tunggak masa depan! Kami adalah cahaya dan garam dunia.' Cara penginjilan adalah seperti pertunjukkan: belia memeluk sesama sendiri dan saling tukar-menukar pengalaman dengan belia dari berbagai ugama dan kepercayaan. Fasilitator perayaan ini pun tidak memerlukan ianya dari orang Katolik.