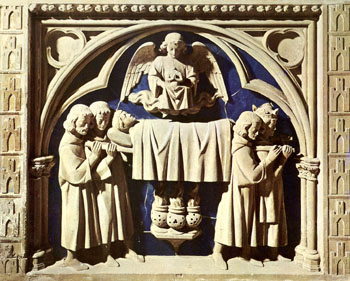 Too many have forgotten that the infallible dogma of the Church on salvation includes four final things - Death, Judgement, Heaven and Hell. What does the Catholic Church teach on the Four Last Things?

1. Man's probation ends with death.
2. The Particular Judgement follows immediately after death.
3. The good go to heaven and the wicked go to hell after the Particular Judgement.
4. Those who are not entirely purified go to purgatory after the Particular Judgement.
5. This world will come to an end when God wills.
6. The dead will rise again on the Last Day.
7. On the Last Day Jesus Christ will come again to judge the living and the dead.
8. After the General Judgement the elect will enter life eternal, but the reprobate will go into the everlasting torments of hell.
9. The thought of the Last Things inspires man with the fear of the Lord and the love of God.

Terlalu ramai umat Katolik yang tidak tahu atau langsung lupa akan dogma (ajaran) tentang penyelamatan dalam gereja Katolik iaitu dogma Empat Perkara Terakhir – Kematian, Pengadilan, Syurga dan Neraka. Apakah ajaran gereja Katolik tentang dogma Empat Perkara Terakhir ini?
1. Kehidupan manusia dibumi berakhir dengan kematian.
2. Selepas kematian, ini akan disusuli terus dengan Pengadilan Perseorangan.
3. Manusia baik akan masuk ke Syurga dan manusia jahat akan dimasukkan ke dalam neraka selepas Pengadilan Perseorangan ini.
4. Manusia yang mempunyai dosa-dosa kecil akan didimasukkan ke dalam Api Pencucian sehingga dia habis membayar dosanya, dan akhirnya akan dibawa masuk ke Syurga.
5. Hari akhir bumi ditentukan oleh Tuhan sendiri.
6. Pada hari terakhir, manusia yang telah mati akan dibangkitkan semula.
7. Tuhan Yesus Kristus akan datang pada Hari Kiamat (Hari akhir bumi) untuk mengadili manusia yang jahat dan yang baik. Ini dinamakan Pengadilan umum.
8. Selepas Pengadilan umum, manusia yang baik akan masuk ke Syurga dan bahagia selama-lamanya (roh dan tubuh sekali) dan yang jahat akan dibuang ke api Neraka dan menderita selama-lamanya (juga roh dan tubuh sekali).
9. Renungan pada dogma Empat Perkara Terakhir akan menyemarakkan Ketakutan pada Tuhan dan menambahkan cinta kasih kita kepada Tuhan.