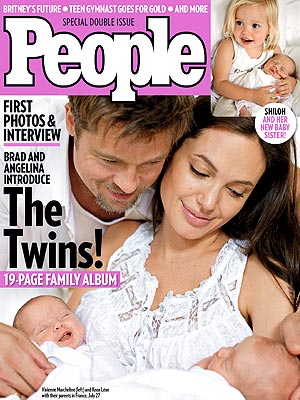 Lihat lah pasangan celebriti ini...kisah mereka dipampangkan dimerata tempat, suratkabar, majalah dan juga di internet. Apakah yang istimewa sangat dengan kehidupan mereka sehingga syarikat majalah People sanggup membayar berjuta-juta USD hanya untuk mengambil gambar anak kembar mereka yang baru dilahirkan? Dunia sudah tidak malu lagi menobatkan pasangan yang berzina ini dengan mengembar-ngemburkan kebahagiaan mereka...sedarkah dunia kedudukan yang sebenarnya...
1. Mereka adalah pasangan berzina, kedua-duanya sudah pernah berkahwin sebelum ini.
2. Anak-anak mereka itu sebenarnya adalah anak luar nikah.
3. Mereka berbuat skandal yang tidak habis-habis kerana satu dunia menyiarkan kisah mereka. Mereka menunjukkan contoh yang tidak baik kepada anak-anak mereka sendiri dan mereka seolah-olah membuat tren kehidupan baru (yang mungkin akan menjadi ikutan oleh kaum muda-mudi pada masa ini), iaitu mengadakan hubungan seks dan melahirkan anak walaupun belum berkahwin adalah sesuatu perkara yang normal. Apakah ini yang dikatakan keluarga bahagia???
Look at this celebrity couple...their stories can be read in almost any newspapers, magazines and it's all over the internet. What is so special about this couple that People Magazine is willing to pay millions just to get some snaps of their latest bundle of joy, the twins? The world is going mad by publicizing and exaggerating the happiness of this adultery couple. The reality is that...
1. This couple is committing adultery, both of them have been married before.
2. Their children are illegitimate.
3. They are causing non-stop scandals because the whole world is printing their stories. First they become scandal to their own children and secondly, it is as if they are telling the world that having sex and children before marriage is very normal (they are setting a new trend of lifestyles which will be imitated by the younger generation - either consciously or subconsciously). Do you consider this as happy family???